Ohio is One of the States with the Highest Discounts on Foreclosed Homes
In the U.S., foreclosed homes are selling at about 27% discount to non-distressed properties on average, but in Ohio the average discount is much higher at 41%.  USA Today reported that "in states such as Ohio, foreclosure sales may be concentrated in lower-income neighborhoods while prices in higher-income neighborhoods are holding up better, Rick Sharga, market researcher RealtyTrac senior vice president says.  That, too, creates a wider gap between prices of foreclosure homes and non-foreclosure homes, Sharga says.  Ohio is currently ranked as the 9th highest state in terms of total foreclosure activity and third highest in the Midwest behind Michigan and Illinois.
Discounts are larger when homes have gone back to the bank. RealtyTrac says bank-owned properties averaged first-quarter discounts of 35%. Pre-foreclosure homes — often short sales, in which sellers and lenders agree to sell for less than what's owed — averaged 9% discounts."
Numbers released by RealtyTrac this spring show that Ohio has the 12th highest foreclosure rate in the U.S.  These are not the kind of statistics that Ohians should be proud of.  According to the report, one out of every 206 Ohioans has received a foreclosure notice in 2011.  Due to the state's unemployment rate of 9.2%, that high of a foreclosure rate will most likely stay high for a while.  Although all of these foreclosure notices do not always end up in a foreclosed home in Ohio, still many of them cause heartbreak and frustration to people already under stress due to job loss or illness, another major cause of financial distress.
Cumulatively, Ohio is one of the hardest hit states in the union. The foreclosure crisis started early in Ohio and the state now has endured elevated levels of home foreclosure for over five years. In 2006, Ohio experienced a 23.6% increase in annual home foreclosure filings and the number of filings have continued at a historically-high rate of over 80,000 filings per year.
Recently, the Obama administration stated that the country's largest housing loan providers have not been doing their job at modifying distressed home loans through the government's foreclosure prevention program. The big three, Bank of America, Wells Fargo and JPMorgan Chase will lose government financial incentives until they improve, the Treasury Department said.
The fact that banks are not doing a good job servicing customers with distressed loans is no surprise to bank customers, who have to dodge fees for every little transaction that a bank makes, and often have to prove to a bank when the bank makes a mistake.  Banks do very little to help customers with trouble paying bills, yet they give lots of customer service to wealthy customers.
Banks often help distressed home owners get further and further in dept, necessitating bankruptcy or foreclosure, instead of cutting deals or rates that would allow the same customers to pay off their loans.  As William D. Cohen recently said in the New York Times,
Why are banks willing to wipe out billions of dollars of the principal on loans made to corporations but — in most cases — give financially strapped homeowners the binary choice of either making the contractually agreed-upon monthly mortgage payments or face foreclosure and the loss of their home? Why do banks have a willingness to negotiate with corporate debtors but have shown only extreme reluctance to modify mortgages for struggling homeowners?
Columbus, Ohio Foreclosure Defense Attorney Discusses Foreclosure Law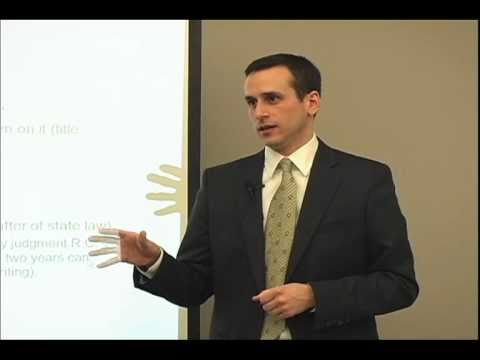 Understanding Ohio Foreclosure Law
Ohio only allows judicial foreclosures

To begin a court foreclosure in Ohio, the appropriate court documents are filed in a local court. The borrower is then given notice of the court filing, usually by certified mail, regular mail, or personal service. If a borrower cannot be located, the lender may publish the notice of the court filing. After the notice has been properly delivered or published, the borrower has 28 days to respond or the court can find them in default. After the court makes its decision, the county clerk issues an order of sale to the sheriff.
The court allows borrowers to pay the debt amount within a certain time. If the borrower fails to pay, the foreclosure process continues.
Once the home is foreclosed

Before the foreclosure sale, the sheriff must obtain three appraisals and publish an ad in a local newspaper for three weeks. The sheriff then conducts a public auction at the courthouse. The sale price must be at least two thirds of the appraised value, and the property is sold to the highest bidder. After the sale, the court reviews and files an order confirming the sheriff's sale. The sheriff prepares and issues a deed transferring ownership to the winning bidder.
The borrower has a right to redeem the property at any time before the sale is confirmed by paying the balance owed and court costs.
Ohio Man Destroys Home to Avoid Foreclosure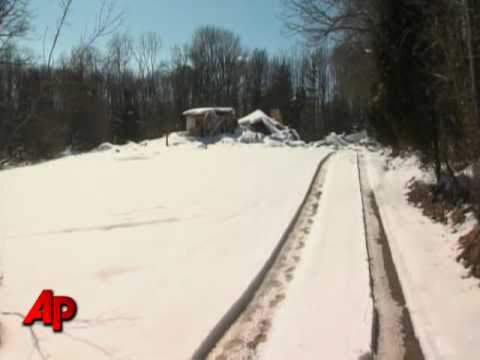 Empowering And Strengthening Ohio's People
If you do receive a notice of foreclosure, there is help available.  Empowering And Strengthening Ohio's People (ESOP) is a non-profit program that helps people avoid foreclosure.  ESOP has been helping struggling homeowners since the 1990′s find ways to pay their mortgages.  The economy has been the biggest culprit of defaulted mortgage loans, but it has also exposed mortgage fraud and unfair lending practices.  ESOP can help homeowners get federal funds or they can work directly with the lenders to help get mortgage modifications.
Crossing the Moat and Storming the Castle at the JP Morgan Chase Shareholder Meeting
Here is an awesome story word for word from Showdown in America.
The JP Morgan Chase office building in Columbus, Ohio is surrounded by a moat—literally. But that didn't stop hundreds of Americans from finding a way across and storming the castle.

With all entrances blocked by police, what's a group to do? Build a bridge!

Dressed as Robin Hood, hundreds of homeowners, clergy and workers successfully crossed the moat and sent a direct message Chase and other big banks: stop hoarding resources and pay your fair share!

A group of proxies were also inside the Chase shareholder meeting. One member of National People's Action asked Jamie Dimon directly: "As a person of faith, my God believes you shouldn't take advantage of people when they are down. CEO Jamie Dimon, do you believe in the same God I believe in?"

Dimon answered: "That's a hard one to answer."

Jamie Dimon went on, "[for any errors that were made] "we deeply apologize. We are doing everything we can to keep people in their homes that should stay in their homes."

————-
The Showdown in Ohio was being organized by National People's Action and the Ohio Organizing Collaborative, and is part of a series of protests at big bank shareholder meetings nationwide as part of the New Bottom Line Campaign.
Below you can see the Showdown in Ohio protest against JP Morgan Chase in action.
While it may seem funny to see people dressed up as Robin Hood storming the castle, why does it take such ridiculous protesting to get the banks to see that real people are involved.  Robin Hood is a perfect role model for this situation, because he was robbing the rich to pay the poor during a time of overly aggressive taxing.  How different is our situation with foreclosures and bankruptcy running rampant, and banks strangling people's ability to pay their mortgages to avoid foreclosure.  How many times more than the value of our property do we need to pay the banks?
Ohio Attorney General Suspects Thousands of Cases of Foreclosure Fraud
In October, we already knew that at least a portion of the bank foreclosures in Ohio were fraudulent.  In the video below, Ohio Attorney General Richard Cordray explains the fraud being committed by the big banks against homeowners related to Ohio home foreclosures.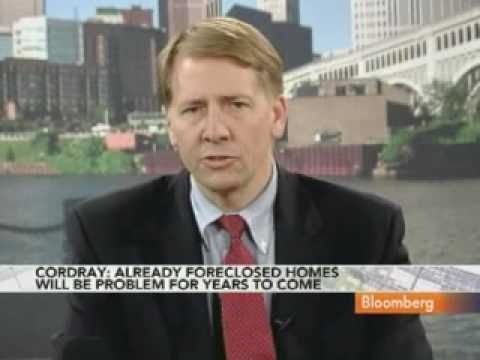 Cases related to this action are still in court, but how much has changed since October with new foreclosures being filed daily.  Are the banks getting any more ethical or smarter about how to handle the life savings of Ohioans?
Ohio Foreclosure Facts and Consequences
Nearly one out of every ten (9.6%) housing units in all residential properties throughout Cincinnati, Cleveland, and Columbus are estimated to have received a foreclosure notice since the onset of the nation's financial crisis in 2007.
Since 2009 foreclosures have resulted in an estimated total loss of $1.6 Billion in home property values for homeowners in Cincinnati, Cleveland, and Columbus's neighborhoods.
The near-term costs of foreclosures in Cincinnati, Cleveland, and Columbus to local government from 2009 through 2012 include an estimated $7.8 Million in direct expenses to deal with foreclosure related vacancies and $30 Million dollars in lost in property tax revenue due to foreclosure related property abandonment.
A minimum of one out of every 17 homes report a foreclosure–a rate equal to more than one home falling into foreclosure for every city block on average across the three city study area since the beginning of 2009.
The country's largest banks, including JPMorgan Chase, Bank of America, Wells Fargo, Citibank, and US Bank are the financial institutions with the majority of foreclosure filings in the three city study area. Together the big banks filed 57% of all home foreclosures on over 18,900 properties in Cleveland, Columbus, and Cincinnati since 2009.
Over one third (39%) of all homes lost to foreclosure in Ohio became the property of one of the nation's big banks. A minimum of 9,200 Cleveland, Columbus and Cincinnati homes have been repossessed by big banks in foreclosure auctions in the last 27 months.
The impact of the foreclosure crisis has had a widespread but uneven impact on Ohio's urban communities.  Analysis of home foreclosure data in the cities of Cleveland, Cincinnati, and Columbus, Ohio shows that home foreclosure filings are on average almost three times as concentrated in communities of color than in majority white areas.
Since the beginning of 2009, homes have been lost to foreclosure becoming bank-owned (REO) property in majority African-American areas at three and half times the rate of neighborhoods with a relatively low African-American population. In these majority African-American communities there were on average 80 to 100 bank-owned properties per square mile.
The foreclosure crisis has contributed to the problems of housing vacancy in Ohio's urban areas. Within the three city study area, bank-owned foreclosed properties were three times as more prevalent in neighborhoods with relatively high vacancy rates (22.3% or more all housing units vacant). Approximately 5% of all housing units in high vacancy neighborhoods became bank-owned since 2009, creating an estimated 10% to 30% increase in already high home vacancy rates in impacted areas of Cincinnati, Cleveland, and Columbus.
How many homes in your neighborhood have been foreclosed in the last 5 years?  You can live in any neighborhood in Ohio and find some foreclosed homes, even the wealthiest areas.  Suburbs of Cleveland like Pepper Pike and Shaker Heights have had their share of foreclosed homes.  No one is immune from the problem because the foreclosure crisis is bringing everyone's home values way down, and it is difficult to know when it will all be over.
Foreclosed House for Sale
New Bi-Partisan Legislation in Congress to Help Regulate Mortgage Servicers
Excerpt from an article by David Rothstein
Enter a common sense piece of bi-partisan legislation co-sponsored by Sen. Merkley (D-OR) and Sen. Snowe (R-ME) that would regulate mortgage servicers. The Regulation of Mortgage Servicing Act (S. 967) addresses "dual track" foreclosures, requires a single point of contact for borrowers, and a third-party, independent evaluator before entering into foreclosure. If not passed in legislation, these rules should be implemented through the Consumer Financial Protection Bureau. The bottom line is that we desperately need transparency and fairness in the modification and mortgage process. Unfortunately, not everyone will be able to keep their homes outright. But we shouldn't make it impossible for them to try.

The data suggests that delinquencies and foreclosures have slowed but they are hovering around peak levels year after year. RealtyTrac estimates that 28% of last year's home sales were foreclosures, nearly six times what we would see in a healthy market. The failure of the housing market to rebound hampers real economic progress. An executive director of a successful HUD approved nonprofit warns "the good news is that the fire is not spreading, the bad news, your house is on fire." This bill gives families a better chance to stay in their homes, period. It levels the playing field, which is historically slanted toward lenders and servicers.
The Next Housing Shock (60 Minutes-CBS News)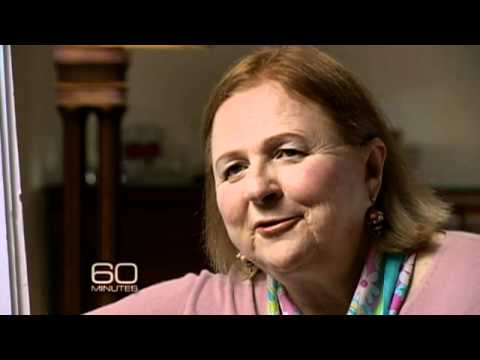 Housing Market Still Plagued by Foreclosures, Mortgage Woes, Tumbling Prices (PBS)